Android is gaining massive support around the World and is in many ways more popular than iOS. However for those who solidly support iPhone and iPads Google is now putting in a strong bid to be the most versatile operating system and win over the Apple camp with its latestAndroid OS version Ice-Cream Sandwich. In this article we will explore Why Ice-Cream Sandwich is better than iOS .Firstly one of the main advantages of ICS (Android 4.0), is that Google has made the ui much slicker and modern. Well placed and useful navigation buttons make it simpler for Android users to navigate around the phone.The iPhone in contrast has only one navigation button, the Home Button, Android phones have back, menu, and multitasking buttons, so there is no fiddling around with a variety of menus to find the functionality you are looking for. This makes for a much easier and useful phone/tablet experience.
Multitasking is second nature to ICS with screen grabs taking up all the screen real estate, as opposed to the iOS having only a pale shadow of this with a dock at screen bottom.
A massive draw point for Android is the way that your home screen can be redesigned and customised with Widgets, animations or any other way you see fit. iOS gives a very bland home screen that can be seen on 99 % of non-jailbroken phones that only show the apps you have. There is quite simply no customisation or excitement on an iPhone's screen.
2. Resizable Widgets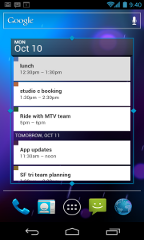 At the moment widgets are exclusive to Android. The home screens in Android 4.0 are designed to be content-rich and customizable allowing the user to embed live application content directly through interactive widgets. Widgets let you check email, flip through a calendar, play music, check social streams etc. These handy functions aren't hidden away in menus or apps but can be accessed instantly and on the fly unlike the iPhone that displays "dumb" non-interactive icons. Widgets are also highly customizable and can be re-sized ,moved and removed as the user sees fit.
3. Swipe to dismiss notifications, tasks, and browser tabs
Android 4.0 makes managing notifications, recent apps, and browser tabs even easier. With simple swipes and multitouch gestures this facility is easily accessible.
4. Quick responses for incoming calls
Calls on Android devices can now be answered with customised text messages. There's no need to even answer the call! Individual and unique responses can be added and managed from the Settings app. On iOS you can only answer or decline the incoming call, this at the moment is the only "out of the box" call functionality that iPhone's have.
5. Improved text input and spell-checking
Android 4.0 makes text input even faster and more accurate. To fix misspelled words more easily, Android 4.0 adds a spell-checker that locates and underlines mistakes and suggests replacement words. With one tap, you can choose from multiple spelling suggestions, delete a word, or add it to the dictionary. As always the Android dictionary function can be enhanced by downloading and installing third-party dictionaries, spell-checkers, and other text services.
6. Powerful voice input engine
As ICS ' Android 4.0's answer to Siri Google introduces a powerful new voice input engine that offers a continuous "open microphone" experience and streaming voice recognition. Text can be dictated for an unlimited period in the language of your choice. The voice recognition is done in real time allowing you to look at the interpreted text as you speak. There is no wait between dictation and the text being displayed onscreen. Siri on iOS provides options to search the web directly but it is used more for entertainment purposes as it is still in a very basic form. .
7. Control over network data
With network data charges becoming a real concern for our always connected devices Ice-cream sandwich provides a variety of graphs and pictograms to keep a track of your Android phone's data usage. You can also manage the background data used by individual applications as needed.
8. Cloud-connected experience
With the latest Android updates and the introduction of Google Play replacing the now defunct Android market, Google has enhanced their cloud based storage facilities even further.
9. Google Experience
If you're a gmail user than ICS has you in mind. Android provides the best google experience including GMail, Google Calendar, Google Maps, Google Voice, Google Search, YouTube, Google Goggles, Google Talk, Google Translate, Google Earth, Blogger, and Chrome to Phone. You can send pages from desktop Chrome to your smartphone or tablet with one click and read them on the go, even if you're offline. Of note is that many iPhone apps now rely on Google maps,Google Earth and Google Chrome to fulfill their various roles.It naturally follows that with Google being the instigator of these various services that the user experience is much more integrated and seamless with a native Android device.
10. Google Maps and FREE voice-guided Navigation
Google Maps Navigation provides you the best experience on Android 4.0, even much iPhone navigation is reliant upon Google Maps. Google has built in a free voice guided turn-by-turn GPS navigation. The maps provide directions based on any type of transport that you choose to use including driving, biking, and walking directions etc. This is exclusive only to Android as the iOS version of Google Maps provides just the core functionality.
In addition, Google has also included Android Beam for NFC-based sharing and Face Unlock in Android 4.0. Android Beam is an innovative, convenient feature for sharing across two NFC-enabled devices, It lets people instantly exchange favorite apps, contacts, music, videos — almost anything.Face Unlock is a new screen-lock option that lets you unlock your device with your face.And even as we speak Apple is trying to achieve their own inferior version of the face unlock It takes advantage of the device front-facing camera and state-of-the-art facial recognition technology to register a face during setup and then to recognize it again when unlocking the device.
Reading this article you'd expect that I was a massive Android fan. Indeed I am, and it's slowly becoming a de facto standard across the World that Android is becoming the OS of choice for many Smartphone users. Apple's devices are overpriced and while they do present a less buggy and homogenised experience for the user Android eclipses them on so many fronts. However there is a caveat here, while I'm an Xperia Play User (and looking forward to Xperia Play's Ice-Cream Sandwich update) I'm also the recent and proud owner of an iPad. The reason being that even though ICS and previous incarnations of Android present such a solid and fun OS the sheer amount of easily accessible and free apps for the iPad doesn't have a patch on what is currently available for Google Android Tablets. So when developers finally sit up and see how comprehensive and futuristic Ice-Cream sandwich is and start to inundate Google Play with the same amount, and more importantly QUALITY OF APPS that the iPad has I'll hang on to the Apple Tablet and exchange it for (probably a faster, slicker and more user friendly) Android tablet.