New technology patents from Microsoft might take Apple's iPad dominance and iPhone smartphone dominance out of the game. Apple has long been one of the favourite manufacturers of Mobile phones and tablets (especially with the new iPad 3 (HD) rapidly flying off Smartphone retailers shelves.
However iOS powered products whilst still being brilliant in recent years have tended to be evolutions of good ideas and not revolutions. News of dual display Smartphones and tablet patents applied for by Microsoft may be the revolution that we have been waiting for.
Sources at the United States patent and Trademark office have let slip about new smartphone patents that reveal that Microsoft is working on two sided Smartphones and Tablets. This is not simple tech like mere switch covers . But very advanced mobile technology that will give us to tablet screens, one front and one back. The front screen will of course be the meat of the devices (will it compare to iPad's HD retina display one wonders?) but the techno revolution comes in the form of a second low power back screen that can fulfil the role of a display clock, album cover or whatever other use developers can think of for it. A far better idea then a dull and lifeless aluminium back cover with an Apple logo!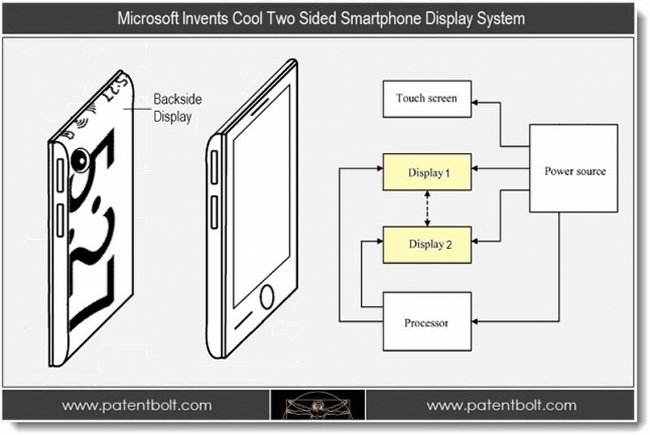 Microsoft's new tablet proposal with dual screen technology