We've been exploring on KickStarter again as there seems to be such an enormous amount of quirky ,interesting and downright crazy games incubated on the crowd funding platform.
For those of you in the know the Oculus Rift was incubated on KickStarter towards the middle of 2012. It's promised to resurrect that old Yellow Brick Road of gaming, virtual reality, again. But this time in a more 2013 all singing and dancing fashion.
This post isn't about the Oculus Rift, but about the new and crazy projects coming out on KickStarter (assuming they get the funding) for it. Rift Rush by Lumina Celare for example promises to be the first platformer on OR in VR.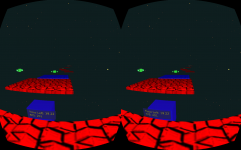 Rift Rush
So where does your imagination take you and what Kickstarter funded crazy game projects for the Oculus Rift can you think of? We'd love to be able to see some
dance recital gifts
going the way of the first O Rift dancing champ for example. Virtual Reality Ballroom dancing anyone?