Barcodes came first many years ago with their series of thick ,thin lines and digits encoding information. The debatedly ugly QR codes have most recently reared their head , but now we have
Blippar
to add to the astonishing AR power of iPhone and Android.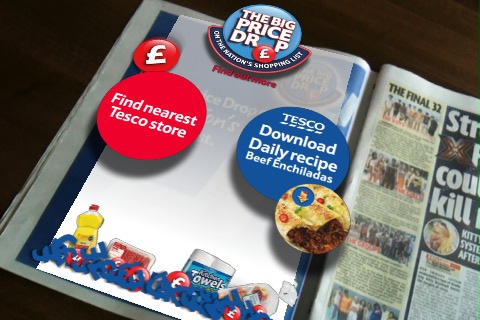 TESCO BLIPP AR CAMPAIGN
The popular UK based
Nuts magazine showcased the AR app
and was the first time I saw Blippar introduced and as a substitute for fleshy pictures in action and your iPhone to be used for all sorts of amusement it seemed to do a good job. The Blips or Blippar B as the company responsible for it likes to call it , are a lot more attractive than QR codes and should, when the reader is up and working flawlessly, instantly activate when your phones camera is shown the Blippar B.
Android users report a lot of difficulties with the app, but Blippar is still in Beta for Android so we'll have to see in the following months how the AR app works out on Android.
Blippar has been designed with social sharing in mind and the Blippar Augmented Reality App can not only be used to 'Blip' but also share the content on social networks such as Twitter and Facebook.
Of course a 3G Network or Wifi connection is mandatory for your phone to use this app. Worryingly the website for Blippar gives us a lot of tips on how to use the AR reader. Tips such as: "If nothing appears, move the camera away..." and "Make sure the light is good..." are disturbing as in the fast paced breakneck world of information technology for our Smartphones , we expect instant gratification! Maybe we're being too judgemental as iPhone users , unlike their Android counterparts generally only seem to have good things to say about the new substitute for QR codes.
How to use Blippar.


The Blippar Vimto Game, is a free AR game for iPhone or Android, but of course you'll have to supply your own Vimto bottle! The AR game demonstrates the marketing capability of Blippar and gives you an idea of how high profile products are starting to take Augmented Reality app seriously.
Other clients include Tesco and Waitrose. Explore
Blippars AR Blog
for more information and AR ideas.
As 2012 progresses new and current Smartphone tech such as Blipps , Qr codes and NFC can only grow . Can the average iPhone or Android user keep up with all the Smartphone advances? Probably not, but as the idea for a Blipp is so solid we can only hope that the tech support matches up to a very interesting and entertaining AR concept.