iPhone Puzzle Fun with iMoki
Puzzle games on iPhone work really well, especially those with distinctive and yet simple visual styles. IBlast Moki looks very bright and colourful on the iPhone and this just adds to the appeal of a very addictive and inventive puzzle game.
The premise is simple-get your Moki into the portal to progress to the next level! A variety of unique and funny tools can help or hinder your Moki making his portal escape.
What makes this one of my favourite puzzlers on iPhone at the moment is the ability to take your own creativity and deviousness and create shareable levels for iBlast Moki 2 and puzzles using the props already found in the developer's created levels on iBlast.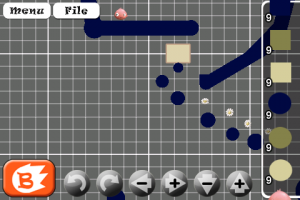 iBlast Moki 2 Level Creation
To be very cliched : The iBlast Moki 2 HD level create function does actually make for endless puzzle fun on your iPhone.