Join a

Clash of Clans League

with the latest update! And more units available too(Dark Golem becomes unlocked when you level up your dark barracks!And now the fearsome electricity spitting Tesla can be levelled up to 7)
For lower level players you'll have less loot disappearing after attacks with this latest April Clash of Clans update. And if you've got a generous clan than upgrade your Clan castle even higher with the new April 2013 update.
More about Clash of Clans leagues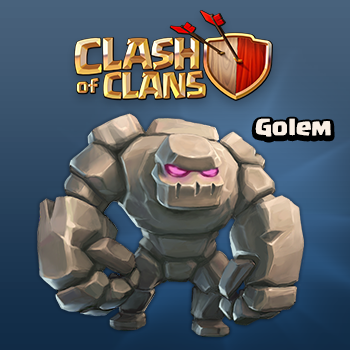 Clash of Clans Golem in new Update
Joining a league is a good thing with progressive loot bonuses the higher up in the league you go. Its said that you'll even get loot from hip just being in a Clan league every time there's a victory!
We'll keep you updated as to the best leagues to compete in and what sort of victory loot bonus you can get.(bronze,silver 1,2,3,gold,crystal and champion leagues)
How to join a League
To compete in a league just attack someone, at the match's end your trophies will determine your league. You'll need 3200 trophies to compete in the premiership league of Clash of Clans-the Champion's League!
How do Clash of Clans Leagues Work?
I'm now in League Silver 2 and can get a loot bonus of 1700 elixir and gold for winning a match. I've got 1169 trophies. The league will last for 2 weeks and I'm guessing that my trophies then can push me up to the next league.
After winning my first match in the league it seems that position is affected by both the amount of trophies you have and the amount of successful attacks and defences you take part in.
It's interesting that SuperCell has taken the instant promotion route to league dominance as after the two weeks, if you've performed too well you'll be at the bottom of the next league up! It remains to be seen how this will work.
After battling to the top of the silver 2 League I can confirm that you get promoted as soon as you reach the max trophies for your league-as I'm now in the

Silver 1 League

where a victory gets you 2500 extra

gold

and

elixir

. When I reach the next league up: gold 3 ;I'll be on 3800 bonus loot.
League Demotion
Is it possible to get demoted to the best league? I've just fallen below the necessary trophy count for Silver 1 but still remain in that league. There are still ten players below me with less than 1200 trophies and nod emotion,so it seems that staying in a league before demotion depends on where your trophies rank you,even if you below the minimum.