So what are the best games for the wonderful d-pad enabled
Sony-Ericcson Xperia Play Gaming
phone. That's a good question which I certainly hope to answer here-both because I know that you guys are champing at the bit , waiting to find out
and because I'm also an Xperia Play gamer and would love to get some new games for my phone too!
If you're reading this article then the Xperia Play will probably need no introduction for you- being out in most World Markets since about April, the Android powered Xperia Play has turned smartphone gaming on its head-predominantly for the simple reason that it is not only officially the first Playstation Certified Phone but also because of it's slide out game controller, which is so much sweeter to play with then the normal on screen controls for Smartphones.
When the Xperia Play first emerged it was announced that many developers would be giving it their backing, including of course Sony themselves, who would be periodically releasing Playstation One titles on the Xperia Play. Now over six months on it is apparent that many developers are still backing the Play, with Gameloft and EA being the most prominent. As for Sony themselves there has not been the expected avalanche of Playstation One Titles as was expected but that is really no bad thing as, love the original old school Playstation One games as we do, they are showing their age. As for Gameloft and EA, we will do our best in this article to mention some of their top Xperia Play titles, but for the most up to date I highly recommend paying them a visit directly from your Phone's browser to see what the latest games there are. I will also attempt to review some of these top titles in future articles.
Playstation One Games for the Xperia Play
So what Playstation One games can we find on the play: Crash Bandicoot- The Wrath Of Cortex comes pre-loaded and is still as fun to play now as it was on the original Playstation. It also serves as an introduction to how good the Xperia Play controls are to play these types of frantic Platform Games.
Surprisingly there's very little information to be found on the internet for the Playstation Back Catalogue for Xperia Play, but here's what we do know.
WIPEOUT: The Original Sci-fi racer is available and looks very good.
SYPHON FILTER: The Sneak 'em up that predated Metal Gear Solid is definitely worth a look.
COOLBOARDERS: If frantic and fast snowboarding is your thing.
And not many other worthwhile titles from Playstation's Past to be honest, where are the Metal Gear Solids and Final Fantasies. Here's some Playstation One titles we would like to see on Xperia Play
EA GAMES ON XPERIA PLAY
EA is one of the major game developers that still continue to support the Xperia Play. Their games however can't be found on the Android market but must be accessed directly from the Xperia Play Browser. At the time of writing four of EA's best games are still available for free and I'm enjoying them immensely.

Deadspace for Xperia Play

DEADSPACE: Frantic survival horror set in space, based on the original PS3 and Xbox 360 console versions, this is absolutely awesome and just a little bit scary!

BATTLEFIELD BAD COMPANY 2: Brilliant FPS that takes full advantage of the Xperia Play's optimised controls.
NEED FOR SPEED SHIFT and NEED FOR SPEED:HOT PURSUIT: I'm loving these two, especially Hot pursuit which gives all the arcade thrills of a top racer and the ability to be either the cop in pursuit or the criminal trying to escape.
GAMELOFT'S XPERIA PLAY GAMES
And so we move on to Gameloft's games. The developer has been madly popular with mobile gamers for some years and has really backed Xperiam Play to the hilt with some quality games across many different genres.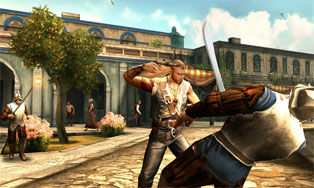 Backstab
Looking for a FPS:
NOVA and Brother's in Arms 2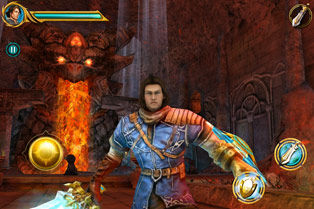 Sacred Odyssey
And even what could possibly be the best MMORPG on Xperia Play:
XPERIA PLAY GAMES THAT I ENJOY
As you can see the list really is quite comprehensive! I'm going to finish off by just sharing some of the other Xperia Play games that I've enjoyed and hope that you'll add to this article by commenting on what you think are the best:
Happy Vikings from Handy Games







Minecraft
By MOJANG
Minecraft is unique – a sandboxed building game, based around blocks that encourages creativity in a 3d environment

BlackStar Chronicles


Reckless Racing






Read
Sony's Blog
here, giving occasional updates about the Playstation Phone
And most of all enjoy I look forward to hearing your comments on what you think are the best Xperia Play games.
Due to this Xperia play Article being so popular amongst Android Gamers we will be updating it very soon with some of the best and greatest games currently available for the Xperia Play. Stay tuned for reviews of
Windup Knight for the Playstation Phone
, in depth tips on GOF 2 and other games setting the Xperia Play alight in 2012!
NEW XPERIA PLAY GAMES UPDATE:
Top Upcoming Games on Xperia Play
I selected this post to be featured on
Technology Blogs
. Please visit the site and vote for my blog!